CALLIE BLACK CONTRAST LINEN SARONG
Find in Store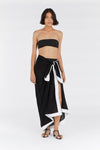 CALLIE BLACK CONTRAST LINEN SARONG
If item has low stock, please text store to confirm availability. If store isn't listed, the item is not available at that location. Bondi find in store is coming soon.
Size Guide
This is a general size guideline. Exact measurements vary with each item.
Measuring Guide
Bust

Measure around your chest at the fullest part of your bra cup.

Waist

Measure around the smallest part of your waistline. Above your navel and below your rib cage.

Hips

Measure 20cm down from the natural waistline.